Modern Office Furniture Gaining Popularity in Dubai Workplaces
Workplaces in Dubai Embracing Modern Office Furniture to Boost Productivity and Enhance Aesthetics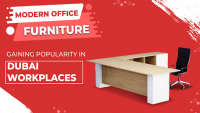 Dubai, UAE -- (ReleaseWire) -- 10/18/2023 --Dubai office furniture market is booming with the high demand for modern office furniture in different workspaces. Business owners are adding this stylish office furniture, not just to keep their office premises up-to-date with the renovation trends and enhance the aesthetics of interior decor, but to boost productivity. Mahmayi is the leading office furniture supplier in Dubai and across the UAE, providing an excellent variety of modern office desks and chairs at affordable ranges.

Mahmayi's modern office furniture, from modern workstations with desk partitions to writing tables, meeting tables to executive conference chairs- Everything comes with ergonomic designs, including height adjustability, high-back and plush cushions on chairs, enough legroom for desks, and much more. They ensure a cosy and comfortable work ambience for employees, leading to less distraction from work and better productivity.

Including modern office furniture in the workplace adds more aesthetic and style to the interior decor. Thanks to its variety of finishes and sleek designs, a perfect match for any decoration. Moreover, office desks, whether they be meeting tables or workstations with glass desk partitions, don't just look good but are spacious and have built-in drawer storage, allowing employees to keep the tabletops clutter-free.

On another hand, modern executive conference chairs are gaining popularity in Dubai workplaces. These are dynamic and light and comply with the latest trends, like ergonomic designs, so employees can sit comfortably for extended hours without the risks of back and neck pain, reducing the rate of absenteeism. The Design Head of Mahmayi stated, "All our modern office furniture is ergonomically designed with durable and comfortable material considering employees' well-being so they can work at ease. Our workstations and desks will just spruce up your entire office outlook with trendy sleek designs, leaving your visitors impressed."

With Mahmayi, you can easily access high-quality and amazing lines of modern office furniture with up to 5 years of warranty. We strive to maintain the highest standard of quality and durability for office desks and executive office chairs. Our prices are highly competitive, and we offer FREE installation and delivery within the UAE with flexible payment options.

About Mahmayi
Mahmayi is one of the premier wholesale distributors of home and office furniture, commercial safes and vaults in the UAE, Africa, GCC, Middle East, Russia, East Europe and Central Asian Regions. Shop stylish custom furniture online from Mahmayi. We offer high-quality products at a competitive price range. We are highly dedicated to coming up with an amazing line of designer furniture. Our team of certified people will help you procure attractive, stylish and functional green furniture at a very affordable price. As a reputed wholesaler, we are proud in offering the best quality products at the lowest possible prices with dependable customer service.
Media Relations Contact